Weybourne is the house where I was born on 7th January, 1939, and lived until I married in March 1961.  I wanted a miniature house as similar as possible to my parents' house, and decided I would set it on the evening of Coronation Day, 2nd June 1953.  I first looked at available kits, but then, finding that none of them was what I wanted, decided to build my own from scratch, using strip wood and mount card. I built all the furniture and fittings as closely as I could to what my parents had.



Weybourne

64 New Road

Seven Kings

Ilford

Essex

Photo taken in February 2005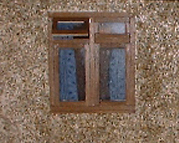 Scroll your mouse over the house exterior views below to see the rooms inside, or click on the rooms for more detail.  

If you are interested to see how the house was built, please click the NEXT button.

I hope you will enjoy wandering round my childhood home.

Guttering and downpipes supplied by: